Many dedicated watchers of the San Francisco real estate market are aware of the precipitous spike in inventory that (almost) always occurs immediately after Labor Day.
(It looks like this - purple dots are September)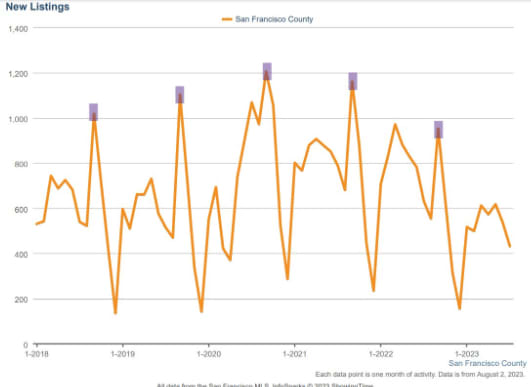 What's less well-known is the related "shadow inventory" that this seasonal dynamic creates.
During the summer doldrums, TONS of sellers withdraw their homes from the market, planning to re-list the property during the September rush. During that time (often during the month of August) there are dozens of great deals slumbering in the "Expired" and "Canceled" sections of the MLS. You won't see them in your Redfin or Zillow searches. They're visible only to agents diligent enough to go digging for them.
A sampling of the many properties currently available under the radar:
Single Family Home in the Sunset District - 2BR/1BA $988k
Single Family Home in the Inner Sunset - 4BR/2BA $1.675k
Single Family Home in Noe Valley - 5BR/6BA $5.75MM
Condo in the Marina - Studio $878k
Condo in Nob Hill - 2BR/2BA $1.795MM
Single Family Home in Potrero Hill - 5BR/4.5BA $4.895MM
Single Family Home in Bernal Heights - 4BR/4BA $2.595MM
Contact us for addresses and additional details!