Bernal Heights
is a vibrant neighborhood in southeastern San Francisco, effortlessly blending a cozy residential feel with the defining energy and character of the city. The community is situated on Bernal Hill, providing picturesque views of the city skyline, the San Francisco Bay, and the surrounding hills. With beautiful views, a strong community, outdoor recreational opportunities, a diverse culinary scene, and a convenient location, it is no wonder why many people love this dynamic and welcoming neighborhood. If you plan on moving to the area, here are some things to do in Bernal Heights.
Dining in Bernal Heights
A selection of fantastic dining options is on the outer edge of Bernal Heights along Cortland Avenue. The quality and creativity of the cuisine at these restaurants are turning Bernal Heights into a must-visit culinary destination. Whether you want Italian food or a classic California dish, the restaurants of Bernal Heights will have something to satisfy your craving.
3rd Cousin
919 Cortland Ave, San Francisco, CA
3rd Cousin is a highly regarded restaurant serving elevated American and Californian-style dishes. Known for its intimate and inviting atmosphere, the restaurant provides a memorable dining experience to all patrons.


The menu at 3rd Cousin reflects Chef Greg Lutes's dedication to serving farm-to-table meals, reminiscent of his roots in Illinois, where he fell in love with cooking. The restaurant focuses on providing a seasonally inspired and ever-changing dining experience. The menu reflects a range of dishes showcasing classic and innovative flavors.


One of the notable aspects of 3rd Cousin is its tasting menu format. This format allows guests to embark on a culinary journey, indulging in a sequence of carefully crafted dishes. Each course is meticulously prepared and beautifully presented, creating an artful and gastronomic experience.

Uma Casa
1550 Church St, San Francisco, CA

Uma Casa brings Portugal's vibrant flavors and warm hospitality to San Francisco. The restaurant offers a distinct and memorable dining experience in the neighboring Noe Valley area. The atmosphere at Uma Casa is inviting with its rustic and contemporary elements, creating a relaxed setting. The space often exudes a warm and convivial ambiance, making it a delightful place to gather with friends, family, or a loved one.


The menu at Uma Casa celebrates Portugal's rich and diverse culinary heritage. From seafood delights to hearty meat dishes, the menu pays tribute to traditional Portuguese food while adding a modern twist. One of the highlights of Uma Casa is its selection of petiscos, or small Portuguese plates similar to Spanish tapas, which offer an opportunity to explore a variety of flavors. The restaurant also serves an extensive selection of Portuguese wines to complement the delicious food.
Museums in and around Bernal Heights
The city of San Francisco has a long history, and many museums showcase this history, making it the perfect place for history lovers. For anyone looking for a fun, educational museum to take children to, there are plenty of options to explore near Bernal Heights.
Randall Museum
199 Museum Way, San Francisco, CA
The Randall Museum is a unique educational institution with various engaging exhibits and programs catering to children and adults. The museum blends science, nature, and the arts, to inspire curiosity and a deeper understanding of the world. The Randall Museum strives to be a community hub, fostering a love of learning and exploration in visitors of all ages.


There are numerous exhibits in the Randall Museum, such as the Animal Room, where visitors can interact with various reptiles, amphibians, and small mammals. The staff provides educational demonstrations and talks, offering insights into the behavior and habitats of these fascinating creatures. Another popular exhibit is the model railroad exhibit, with intricate detailed miniature landscapes and trains, perfect for enthusiasts of any age. Other interactive exhibits include geology, paleontology, astronomy, and physics.


The museum also hosts a variety of workshops, classes, and camps throughout the year, bringing opportunities for in-depth learning and skill development in areas such as woodworking, ceramics, and science. The museum's commitment to fostering creativity and craftsmanship is evident in these engaging and enriching experiences.
GLBT Historical Society Museum
4127 18th St, San Francisco, CA
The GLBT Historical Society Museum is a renowned cultural institution dedicated to preserving, exhibiting, and celebrating the history and heritage of the LGBTQ+ community. The museum's location in San Francisco's Castro District, a historically significant neighborhood for the LGBTQ+ community, adds another layer of cultural significance to the institution.


The museum offers a diverse collection of artifacts, documents, photographs, and artwork chronicling the struggles, achievements, and contributions of the LGBTQ+ community throughout history. The GLBT Historical Society Museum exhibits provide a compelling narrative of the LGBTQ+ experience, addressing topics such as activism, civil rights movements, cultural expression, and personal stories.


Along with its exhibits, the GLBT Historical Society Museum hosts public programs, including lectures, panel discussions, film screenings, and community events. These events provide dialogue, education, and community engagement opportunities, enriching visitors' understanding of LGBTQ+ history and contemporary issues.
Parks in Bernal Heights
Bernal Heights is a dynamic neighborhood in San Francisco that offers a variety of parks to suit different interests. Precita Park provides stunning city views, and Holly Park offers a tranquil, relaxing setting.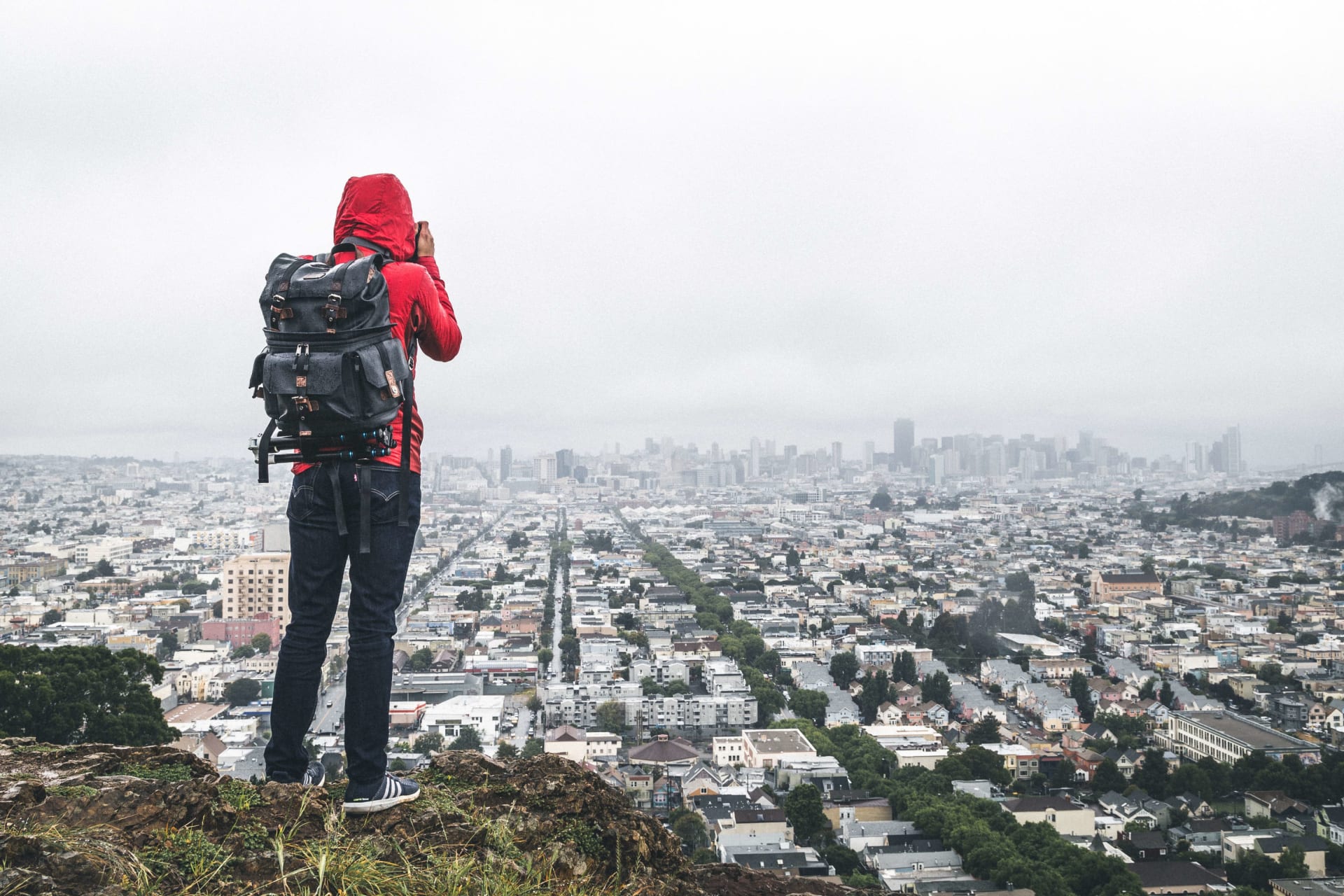 Bernal Heights Park
Bernal Heights Blvd, San Francisco, CA
Bernal Heights Park is scenic and beloved, with stunning views, recreational opportunities, and a tranquil escape from the bustling city. One of the park's defining features is its prominent hill, which rises approximately 400 feet above sea level. Visitors enjoy panoramic vistas of the surrounding cityscape, including sweeping views of downtown San Francisco, the San Francisco Bay, and the nearby hills.
Holly Park
625 Holly Park Cir, San Francisco, CA
Holly Park is a serene and inviting space for locals and visitors to enjoy. The park features a playground divided between playspace for older and younger kids. It is a dog-friendly park and is well-known for its nature trail. There are also breathtaking views, and visitors can enjoy panoramic vistas of the city skyline, making Holly Park a popular spot for photography. Holly Park's inviting green space in the heart of Bernal Heights provides recreational amenities and stunning views for the neighborhood.
Precita Park
3200 Folsom St. San Francisco CA
Nestled within San Francisco's Bernal Heights neighborhood, Precita Park is a charming green space that exudes a laid-back and community-oriented atmosphere. This small but inviting park features a well-maintained playground, perfect for families and children to enjoy. The open grassy areas provide ample space for picnics, leisurely walks, or simply basking in the sunshine. The park is a popular gathering spot for local residents, who need space for their dogs to exercise or to find their own spot on the benches while admiring the neighborhood's scenic views. With its intimate setting and a strong sense of neighborhood pride, Precita Park serves as a cherished retreat for the Bernal Heights community.
Living in Bernal Heights
As industry leaders with over 60 years of combined experience, this agency is not just experts in the real estate field; they want you to enjoy the process. Take the first step today and
contact Pacific Edge Real Estate
to start the conversation.